While formal wear can be key to a successful business, you shouldn't have to empty your wallet first to get there.
While many men's suits can be very costly, there are plenty of options that are just as suitable as the more expensive ones. There is nothing wrong with opting for a cheaper suit, as long as you know how to make them look just as fancy and professional as the actual expensive ones.
Make Sure It Fits
A suit that fits you well will make your suit look infinitely more expensive.
When buying a suit, make sure it fits around your waist, and fabric falls flat against your body. All other issues can be fixed by a tailor.
To get that "fit-like-a-glove" look, make sure you find a capable tailor that understands how a suit should fit.
Accessories Will Elevate Your Look
Even the most expensive suit won't look as good without good accessories. Take care in choosing your shoes, pocket square, cufflinks, and watch.
The right combination of these accessories will elevate any look, including an inexpensive suit. Often times it's worth investing a bit more in these pieces because you can wear them over and over again, ultimately getting your money's worth in the end.
Stick To Basic Colors
To make your suit look more expensive stick to basic colors like black and navy. Any bright colors or patterns can quickly appear cheap, while staples like black and navy are timeless.
If you're looking for a bit of a color switch up, you can select something small from another color family, such as a pocket square or a favorite watch.
Be Picky About The Materials
Certain materials, such as shiny synthetic fibers should be avoided, as they don't give the same sense of luxury as natural fabrics and tend to irritate the skin significantly more. If you're looking for a cheaper suit, try to find brands that make an effort to offer quality fabrics and modern cuts, such as J.Crew.
Don't be afraid to head straight to the sale section, for on a good day you can find an expensive suit on sale for crazy cheap.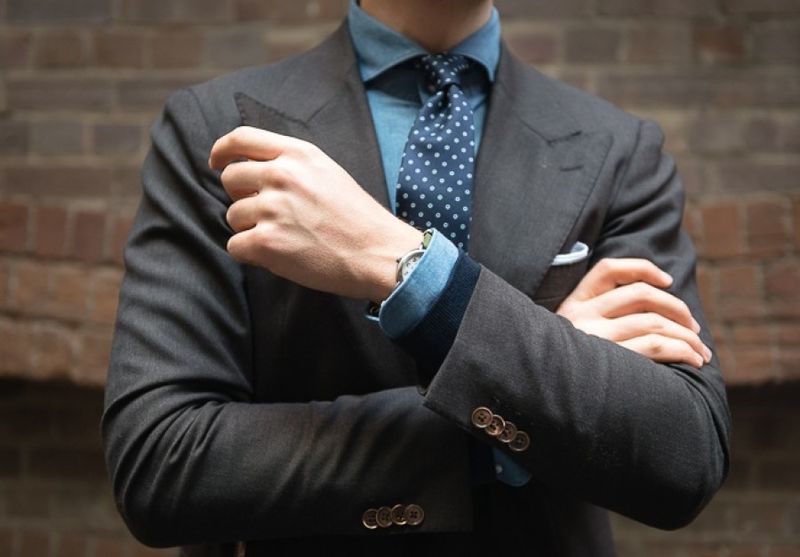 Upgrade Your Buttons
Cheap suits tend to come with flimsy shiny plastic buttons that are easily broken or lost during a particularly hectic work day.
Ask your tailor to replace the buttons with something a little more professional looking. For instance, many tailors prefer horn buttons, as they are traditional and differentiate from ready-made suits.